This is a sequence similarty network. Each node represents a protein. An edge/line joining two nodes represents shared sequence similarity between the two proteins. Proteins are coloured according to their genus.
Click on a protein/node to view information about it.
The network can be filtered to hide/show particular proteins (e.g. by Genus or Order) using the buttons on the right.
---
Usage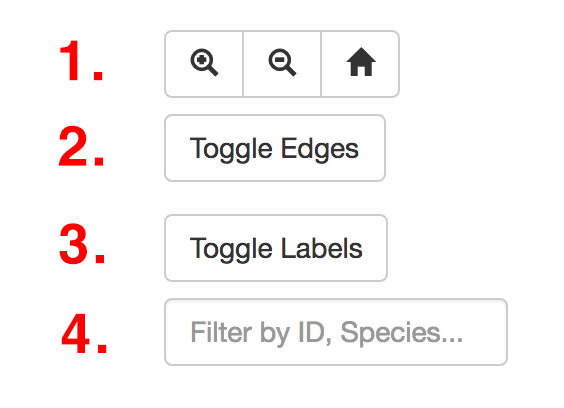 Left to right:

Zoom in
Zoom out
Center view on network

Toggle Edges: hides/shows all edges in the network. Hiding edges improves performance
Toggle Labels: hides/shows labels for all nodes in the network. Hiding labels improves performance
Filter box: type a query here to filter by Protein ID, Species, Genus or Order
---
Filter by method/feature
For RxLR effectors, proteins can also be filtered by the method that identified them or their features using the checkboxes.
Win method: show proteins that were identified via Win method
Regex method: show proteins that were identified via Regex method
HMM method: show proteins that were identified via HMM method
BLAST method: show proteins that were identified as homologous to reference RxLRs via BLAST
WYL domain: show proteins that have one or more WYL domains